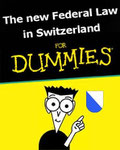 The new Federal Law for civil and criminal procedure
On 1 January 2011 a new civil and criminal procedure came into effect with a uniformity covering all the cantons in Switzerland. This new procedure will replace the 26 cantonal regulations which were valid up until this date.
The new federal laws include some innovations that pose a considerable financial risk for the person who may be entering a judicial process. Thus for the claimant, the court costs will be significantly greater than previously and there is a danger of financial loss despite a judicial win. This will especially affect expatriates with little knowledge of the Swiss judicial system.
In fact, the claimant now has to bear the following costs:
• An attorney's fee
• A process retainer fee amounting to 100% of the estimated legal costs
• In the case of a process won by the claimant, the legal costs of the opposing party will also have to be paid if the opposing party is unable to meet the financial commitment of the courts decision (collection debt risk)
• In the case of a mediation process only, the costs of both parties may have to be met by the claimant if the other party is unable to meet their financial commitment.
Court costs are proportional to claims. Thus, if a claimant demands compensation of, e.g. CHF 100'000 in the canton of Zurich, the following costs may be incurred:
•  Court costs of approximately CHF 10'000
• Possible compensation to the opposing counsel of between CHF  9'000 to CHF 20'000
•  Attorney fees of between CHF 250 and CHF 450 per hour
Thus, the cost for a legal process can easily be between CHF 30'000 to CHF 40'000.
If a person has a Legal Expenses Insurance, this covers all of these costs (lawyer + court, if necessary, including the costs of the opposing party). To compare, a Legal Protection Insurance for the whole family costs only between CHF 300 and CHF 400 per year.
In the case of a claimant winning a process, supported by a Legal Expenses Insurance, and the opposing party being unable to meet its financial commitments following the court's decision, the insurance company will meet these.
We would strongly suggest that you give some consideration to covering yourself from this liability with a Legal Expenses Insurance. For further advice and a free consultation, please call us.